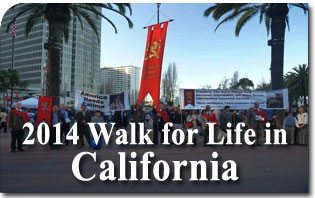 Swarms of energetic pro-life advocates trooped to San Francisco's Civic Center right across the City Hall on January 25, 2014 to mark the Tenth annual Walk for Life. In stark contrast to the icy and frigid cold weather braved by their East Coast counterparts, the largest-ever crowd of between sixty and seventy thousand gathered marched along Market Street on a surprisingly warm and bright sunny day. At one point, the marchers covered a mile-and-a-half long stretch of Market Street which cuts through San Francisco's main business district.
The walk was preceded by a series of speakers which was led the city's preeminent Catholic prelate, Archbishop Joseph Salvatore Cordileone.
American Society for the Defense of Tradition, Family and Properyt (TFP) and America Needs Fatima volunteers made their presence felt with its signature towering red standard and capes as well as banners that conveyed a staunch and firm prolife message. TFP members and supporters also distributed a well-received flyer which promoted a culture of purity as a key solution to the sin of abortion.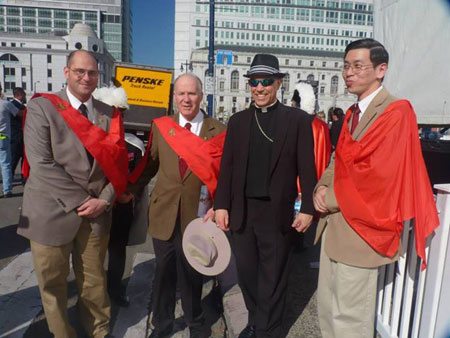 Just moments prior to the start of the walk, TFP members greeted Archbishop Cordileone, Bishop Kevin Vann of the Diocese of Orange, Calif. and Priest for Life national director, Fr. Frank Pavone.
A small band of counter-protesters brandishing their pro-abortion placards showed up along the sidewalk but with little effect on the advancing throng of marchers whose cries of "Prolife! Prolife!" rang through the air and drowned out the insignificant opposition.