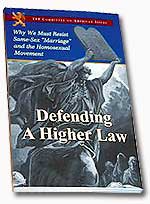 "Sooner or later you're going to need clear and compelling answers to all the radical homosexual propaganda," comments America Needs Fatima director Robert R. Ritchie.
To give these answers, the America Needs Fatima campaign is promoting American TFP's powerful and incisive book that deflates the myths buttressing the homosexual agenda.
Thousands of copies of Defending a Higher Law: Why We Must Resist Same-Sex "Marriage" and the Homosexual Movement were sent to the campaign's pro-family friends and supporters. Written by the TFP Committee on American Issues, the 232-page book is a much needed defense of traditional marriage.
America Needs Fatima hopes to send Defending a Higher Law to hundreds of thousands of concerned families and build a network of families united to resist the rising immorality in society today. It also hopes to expand the campaign to include university students who are constantly barraged by those promoting the homosexual lifestyle.
Such an effort is needed since Our Lady of Fatima warned Jacinta about these sins when she said: "More souls go to Hell for sins of the flesh than for any other sin."
"People need the truth so desperately," Mr. Ritchie explains. "So for that reason, this book becomes a powerful missionary. We want to get it into colleges, libraries, bookstores and homes where many have lost their faith."