The whole nation looks to Gov. Linda Lingle of Hawaii as she decides whether to veto a last-minute bill that would establish same-sex civil unions in the state. In face of this development, the American Society for the Defense of Tradition, Family and Property (TFP) is asking Gov. Lingle to defend traditional marriage by vetoing the measure.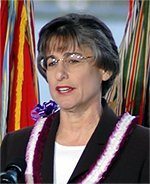 CLICK HERE   
Ask Gov. Lingle to defend traditional marriage.
The Hawaii House of Representatives unexpectedly revived and passed legislation that would make same-sex civil unions the equivalent to marriage. Three months earlier, the bill had been taken off the agenda with the requirement that a two-thirds majority would be needed to revive the issue. Speaker Calvin Say had the House take four votes to suspend those rules and pass the bill with just a majority.
The vote and the suspension of the rules were done on the last day of the state's legislative session and took everyone by surprise. The bill in the Democrat-controlled House passed 31-20, and now goes to the desk of Republican Gov. Linda Lingle who has 45 days to make a decision.
Hawaii voters were among the first in the nation to vote in favor of traditional marriage by approving a constitutional amendment banning same-sex "marriage" in 1998. Bills creating civil unions were considered several times, but failed to receive committee approval prior to the present effort.
Experience has shown that wherever civil unions have been approved, it has only proved to be a stepping stone to same-sex "marriage." In addition, wherever civil unions have been passed, it has been used nationwide to build momentum by those who wish to redefine marriage.
That is why all the nation looks toward Gov. Lingle. The whole nation is affected by the passage of this bill. Her veto would send yet another message that America does not want to redefine marriage.
To send a polite message to Gov. Lingle asking her to veto the bill, please click here.