Everyone likes to hear about big events. However, few measure the full importance of the small ones. Little by little, brick by brick, one builds the foundations and walls of a building. So also an organization builds its networks and makes its impact over public opinion.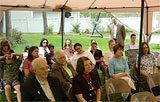 Such small but important events so often go unnoticed. This report will focus on the many small events crowded into the slightly longer than one week of September 16-24. Thus, one can get an idea of how members and supporters of the American Society for the Defense of Tradition, Family and Property (TFP) were active all over the country promoting the values of Christian civilization.
Many TFP events involve families. On September 16, over 200 supporters and friends attended an annual family program and picnic near Topeka, Kans. In addition to local supporters from Kansas, guests traveled from Arkansas, Colorado, Illinois, Minnesota, Missouri, Nebraska, South Dakota, and Pennsylvania.

The all day event began with a presentation by TFP director Luiz Antonio Fragelli. The program also included the always popular puppet theater, an abundant buffet, wholesome games for children of all ages, a hayride filling three wagons, a Chinese shadow show and an outdoor candlelit Rosary procession. The puppet show this year was titled, "The Siege of Czestochowa," an incredible story of heroism and confidence in seventeenth century Poland. The Chinese shadow show told the story of the conversion of Alphonse Ratisbonne through the Miraculous Medal. *
The next day in Topeka, TFP member Byron Whitcraft gave a presentation on the role of temporal society in the lives of Catholics. Mr. Whitcraft frequently visits the area and gives talks to groups in Topeka and Wichita.
On the East Coast, nearly 30 TFP friends and families came together for a similar all-day event taking place near Hartford, Conn. TFP director Gary Isbell gave the talk. The event included a barbecue dinner in an outdoor tent and wholesome activities for family members.
Also on September 16, a group of six TFP members served as an honor guard for a statue of Our Lady of Fatima during a special pilgrimage at the National Shrine of Our Lady of Czestochowa in Doylestown, Penn.

Monday, September 22, members of TFP Student Action went to Millersville University of Pennsylvania to campaign in defense of the unborn. They spent the day handing out flyers and taking surveys. They met with sympathetic students and encouraged them in their struggle.
Later, during the week, Student Action members met with conservative students and leaders at Penn State at State College. They also were part of the regular Saturday morning anti-abortion protest attended by students at the area's abortion clinic.
American TFP Washington Bureau chief Mario Navarro da Costa hosts a regular Friday night program for young conservatives and university students at the bureau residence.
Finally, Student Action also joined with high school students of St. Louis de Montfort Academy on September 24 for a youth hike at the Grand Canyon of Pennsylvania. Such hikes and field trips provide wholesome, character-building activities for youth.
On September 22-23, Preston Noell of the American TFP's Chicago Bureau joined 250 pro-life Americans at the Contraception is Not the Answer Conference at the Crown Plaza Hotel outside Chicago. Sponsored by the Pro-life Action League, the conference united pro-life leaders from all over the United States, Canada and Mexico.
America Needs Fatima director Robert Ritchie spent the weekend of September 23-24 in Miami where he spoke to numerous friends and supporters. His talk was titled "Toward the Reign of Mary." He also met with Cuban-American leaders.
Before leaving for Miami, Mr. Ritchie watched the America Needs Fatima 2007 Calendar go in the mail on September 18. Over 110,000 Americans will soon be receiving these inspiring calendars.
TFP member Michael Drake arranged for the priestly blessing of tens of thousands of Sacred Heart badges. The badges which identify the wearer as a Catholic in case of an accident will soon be sent all over the country and also to soldiers in Iraq.
All the while, America Needs Fatima teams give daily Fatima presentations to hundreds of Americans at homes all over the country. This past week there were team members in Pennsylvania, California, Maryland, South Dakota, North Carolina, Kansas, New Jersey, and other states.
For others, there are normal office duties, classes, and studies. Throughout the activities, the powerhouse of prayer, the greatest of all activities, sustains all. Devotion to the Blessed Mother and her Rosary is especially dear to TFP members and supporters.
Such are some of the little events that make up the "normal" week in the life of the American TFP.
* If you would like to be invited to next year's picnic please email [email protected]. The annual picnic in Kansas takes place on the third Saturday of September.