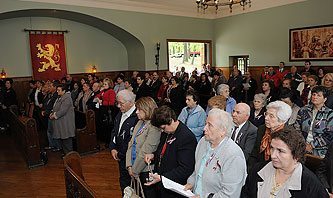 When devotees of the Blessed Mother visit each other, it is a welcome and informal affair. After all, they have the same mother.Such was the warm atmosphere on May 10, when two busloads of Marian devotees from northern New Jersey visited the Pennsylvania headquarters of the American TFP and its America Needs Fatima campaign.
The over 100 visitors were mostly Italian Americans who belong to various rosary groups and pious associations. Some had attended Fatima home visits by America Needs Fatima volunteers. Others had participated in last year's Public Square Rosary Rallies. The common denominator is that they all wanted to know America Needs Fatima better by visiting the offices in Spring Grove, Penn.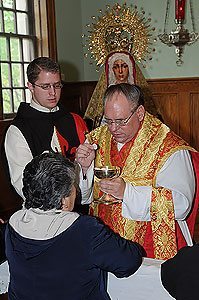 The visitors felt right at home and the hosts were only too happy to accommodate. The program included Holy Mass, served by TFP members wearing the organization's ceremonial habit. There was also a rosary procession on the grounds. Later, there was lunch and an Italian-language audiovisual program about Fatima. America Needs Fatima director Robert Ritchie welcomed the group and invited all to join in the coming Public Square Rosary Rallies in October.
An after-lunch coffee featuring cappuccinos and espressos and homemade Italian cookies were a great success and contributed to the family atmosphere. The group also sang many Italian hymns to the delight of the hosts.
The visit was a wonderful opportunity to get together. It also shows that no matter where one comes from or what language one speaks, when it comes to the Blessed Mother, everyone is family.