From August 1-10, the American Society for the Defense of Tradition, Family and Property held a summer camp for boys aged 11-18 at its national headquarters in Spring Grove, Penn. Modeled largely on an earlier camp in Louisiana, the Pennsylvania camp proved equally challenging and exciting.
Participants came from all over the country and even from England to enroll in this camp, which stressed the theme of chivalry. Other activities included hiking, swimming, canoeing and a trip to Washington D.C. The boys attended talks, slide presentations and theater plays that explained the present crisis based on the book, Revolution and Counterrevolution by Prof. Plinio Corrêa de Oliveira.
The camp's last day was set in a medieval atmosphere. The boys were divided into two teams for an afternoon of games. Leading each team was a knight mounted on horseback rallying their team members under the patronage of St. Louis IX and St. Ferdinand. The course ended with a medieval banquet where the boys satiated their appetites on four different types of meat.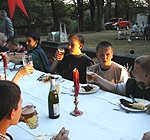 After the last candle on the tables was snuffed out, the boys said their goodbyes and prepared themselves to face the modern world and apply their newly acquired knowledge.