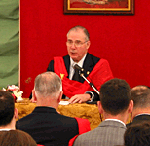 Finding something exciting to do over summer vacation was not difficult for those students attending the Université d'été. This summer university course of the French Society for the Defense of Tradition, Family and Property (TFP) was held at the Château du Jaglu nestled in the countryside near the cathedral city of Chartres. The location, curriculum and fellowship make this program a Catholic student's summer dream.
Nearly 80 students and friends from around the world attended the week-long course from August 25-31. The main theme of the seminar was "The True 'Clash of Civilizations' in Light of Prof. Plinio Correa de Oliveira's Thoughts." Other topics included the Cultural Revolution, the crisis inside the Church and the truly Christian King, St. Louis IX. All talks were followed by discussion periods and simultaneously translated into English, French, Polish and Portuguese.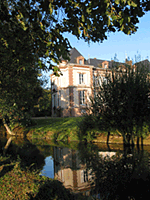 First among the distinguished guests and speakers was Bishop Juan Rodolfo Laise, Bishop Emeritus of San Luis (Argentina) who also celebrated daily Mass. Prince Bertrand of Orleans-Braganza delivered the course's keynote speech where he spoke of his ancestor, King St. Louis IX. Others speakers came from TFP organizations in Germany, Italy, Brazil and the United States.
For the nearly 15 members of the American TFP's delegation France was an inebriating experience. Every turn in the road was an encounter with Catholic history. Every meal was a cultural experience that demonstrated the influence of Christian civilization.
Part of the excitement of having the course in France was the opportunity to visit the actual historic sites that were discussed in the lectures.
At Rheims, for example, the Université visited and prayed before the tomb of St. Remigius (437-530), Apostle of the Franks. They also saw the magnificent Cathedral of Rheims where St. Louis IX was crowned and the scene of the triumph of St. Joan of Arc.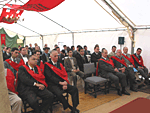 Students saw firsthand scenes from French Revolution. This included a trip to the Carmelite church on the rue de Rennes, Paris where 120 priests (including 3 bishops) were savagely murdered on September 2, 1792. There was also a visit to the impressive cemetery of Picpus where the 16 Blessed Carmelite nuns of Compiegne are buried in a mass grave with 1290 other countrymen killed by the infamous Revolution.

There was a culture aspect of the Université. Participants were treated to a wine tasting session and a concert of French hunting horns where the musicians wore traditional garb that blended in well with the rural atmosphere of the French château. A part of the American delegation even went on a walking pilgrimage from the château to Chartres Cathedral some 15 miles away.
At the course's final banquet, participants celebrated new friendships that overcame language, cultural and geographic barriers. Representatives of delegations from the United States, Italy, Poland, Malta, Brazil, Argentina, and France addressed the audience and spoke of their resolutions to put in practice the lessons learned at the Université d'été.