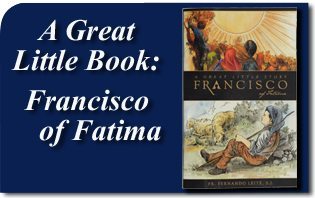 When America Needs Fatima first published its children's biography of the youngest of the three little Fatima seers, Jacinta Marto, it was well received by young and old alike. Jacinta's Story by Andrea F. Phillips continues to be in popular demand and has gone through several printings.
One question, however, has persistently been asked by many: What about her brother, Francisco? Is there a story of his life?
It is with great pleasure that America Needs Fatima now presents a short biographical profile of this Fatima seer titled A Great Little Story: Francisco of Fatima by the Portuguese Jesuit, Fr. Fernando Leite. The book features charming illustrations by TFP artist Jose Roberto Dias Tavares.

This is not just any book about Francisco. It offers a deep spiritual lesson that will help all grow closer to Our Lady by following in the footsteps of Blessed Francisco Marto. Francisco became a heroic soul in face of grave dangers. He grew up as an ordinary child, concerned with playing and unconcerned about the greater world outside of his own.
After Our Lady appeared to him, his life was so radically transformed that his only thought was giving himself totally to Our Lady.
He became focused on the immense evil that had infected society at that time and caused the loss of so many souls in the battlefield of life.
The little boy soon possessed great sanctity. In fact, he made such rapid progress in sanctity that it was commonly agreed that in one short week he advanced as much as many saints advance in a year. His primary concern for the rest of his brief life on earth was that God not be offended and that He be glorified.
His mission after Our Lady's apparition focused on four points:
1)  A belief in his mission to console Our Lord and to offer sacrifices to save souls;
2)  Approaching his mission with great seriousness and logic;
3)  A spirit of sacrifice taken to heroic levels, and,
4)  Continuous prayer and reflection.
The book, Francisco of Fatima can be very helpful for those who want to walk in the footsteps of Francisco. We can do this by:

1)  Developing a firm belief in Catholic doctrine;
2)  Taking this doctrine seriously;
3)  Having a spirit of sacrifice and continuous prayer.
Following Francisco's example, one can do more than survive the onslaughts of the enemies of one's soul. One can obtain total victory over them, help save souls, save one's own soul and be happy with God and all the Heavenly Court forever.
This book can be an excellent first step in following in Francisco's footsteps.
Order your copy today by calling toll-free (888) 317-5571.