""""[vc_column_text]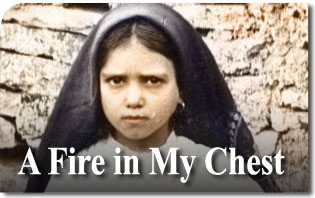 Visiting Fatima years back, preparing to work on my children's book Jacinta's Story, the tiny town of Aljustrel gave me a glimpse into the personalities of the three small seers, Lucia dos Santos, and Francisco and Jacinta Marto.
I will never forget emerging from the tiny, white-washed cottage that had been Francisco and Jacinta's home and seeing the last of their living brothers leaning against a wall, available for souvenir photos. He was a man out of modern time, unsophisticated, direct and simple, a man "of the earth," still untouched by the complications of industrialized civilization.
This is how Jacinta, her brother and cousin, must have been – even more so. There was nothing remarkable about this man, peering at me shyly from under his brow, just as there must have been nothing extraordinary about the little shepherd girl who Pope John Paul II declared "Blessed" in May of 2000, and who looks at us just as shyly from under her brow in her photos.
Pictures and descriptions of little Jacinta show us a pretty, spritely, charming girl who at times, according to Lucia, was a bit sulky, and "the sweetest of his children" in the words of her father, "Ti" Marto.
We get a glimpse of a sensitive, affectionate child when, at age five, she cried bitterly on hearing about the sufferings of Christ, and promised not to make Him suffer anymore.
We sense her contemplative nature when we read of her calling the moon, "Our Lady's lamp."
And we meet the little Portuguese "hostess" when, at age seven, at the first apparition, on May 13, 1917, she shyly asks Lucia if they should share their lunch with their heavenly visitor.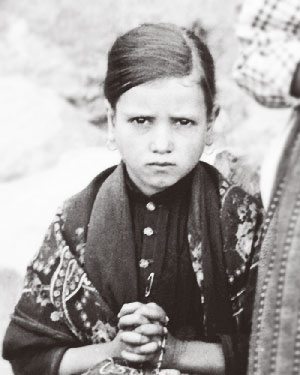 We also glimpse the pristine innocence in the small oval face of the pictures, coupled with an almost disconcerting directness and strength in the brown eyes – eyes that seem to see "beyond," for indeed they had had a glimpse of Heaven – and Hell.
In the second apparition of June 13, the Blessed Virgin said that she would soon take Francisco and Jacinta to Heaven. In the vision of July 13, they were shown a terrifying scene of Hell, in which they saw, immersed in a huge fire, innumerable souls like "burning embers." This vision coupled with Our Lady's pathetic plea "Pray for sinners, many go to Hell because there is no one to pray for them," lit in the innocent girl's heart a fire of love for God and souls.
Between the great graces of Our Lady, the knowledge that she was not long for this earth and the thirst to save as many "poor sinners" as she could, Jacinta forgot the earth, and for four short years lived only to please God, her "Lady" and to help souls make it to that Heaven she had been promised for herself.
Jacinta's natural sensitivity and affectionate disposition were sublimated into that burning charity that renders all sacrifice small and all effort easy. Lucia writes in her memoirs how Jacinta never tired of telling Our Lord and Our Lady how much she loved them. She once said, "I have a fire in my chest but it doesn't burn me."
This inward "fire" fueled her on until her death of tuberculosis just shy of her eleventh birthday, alone in a hospital in Lisbon, which last sacrifice she embraced for her beloved "sinners."
Despite her youth, in the words of Pope John Paul II at her beatification on May 13, 2000, "She could well exclaim with St. Paul: 'I rejoice in my sufferings for your sake, and in my flesh I complete what is lacking in Christ's afflictions for the sake of his body, that is, the Church'" (Col 1: 24).
In four short years the little Portuguese girl had gone from carefree shepherdess to heroic saint.
On the 103rd Anniversary of Blessed Jacinta's birth, America Needs Fatima invites you to take the children you love on a wonderful pilgrimage to feel Our Lady's maternal love and to learn about her beautiful Fatima apparitions through Jacinta's Story. Children will follow Jacinta's footsteps to the Cova da Iria – the famous spot where the Mother of God appeared. They will see Jacinta kneel in awe as Our Lady approaches the holm oak tree in a radiant sphere of light. They will feel Jacinta's sadness as people spread a rumor that it was the devil instead of the Virgin Mary who had appeared
Jacinta's Story is the Fatima story imaginatively told through the eyes of Blessed Jacinta Marto, the youngest of the three seers to whom Our Lady appeared in 1917 to deliver the most important message of our times. The book is hardbound and richly illustrated by author Andrea F. Phillips.
Jacinta's Story contains many vital lessons for children – why it is so important that they pray the Rosary, obey their parents and follow the difficult but rewarding road of virtue in this life.
Visit our online Store at http://store.tfp.org
Or call us toll free 1-888-317-5571 to place your book order.
[/vc_column_text][/vc_column][/vc_row]""[vc_column width="1/2″][vc_column_text]
Jacinta's Story (English)
Hardbound, 61 pages
full color illustrations
B23 . . . . . . . . . . . . . $13.95
[/vc_column_text][/vc_column][vc_column width="1/2″][vc_column_text]La Historia de Jacinta (Spanish)
Hardbound, 61 pages
full color illustrations
B57 . . . . . . . . . . . . . $13.95[/vc_column_text][/vc_column][/vc_row]""""[vc_column_text]References:  America Needs Fatima online, Mystics of the Church online, Speech of Pope John Paul II at Beatification of Francisco and Jacinta Marto-Vatican Website[/vc_column_text][/vc_column][/vc_row]