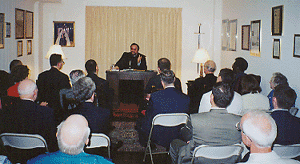 To a full house of nearly one hundred TFP members, friends and supporters at the TFP's Washington Bureau in McLean, Va., Fr. John Trigilio,Ph.D. discussed the background to the present scandals in the Church. His talk on the subject "The Church Will Prevail!" sought to put the crisis in proper perspective.
After introductory remarks by Mr. Joseph D'Agostino, assistant editor of the weekly Human Events, Fr. Trigilio called upon Catholics not to forget the 2000-year history of the Church. Past crises like the Roman persecution and the Arian heresy have presented the Church with "hopeless" scenarios. Nevertheless, with God's help, the Church overcame and grew.
Fr. Trigilio stressed two factors that have played a major role in preparing the ground for the present crisis. The first is the undermining of the Church's theology and liturgy. He employed the formula: Bad theology plus bad liturgy equals bad morality to illustrate the link between the fields. The hype-filled media attacks completely ignore this aspect of the problem.
The second factor is the loss of the sacred. The progressive trend is to turn churches into gathering places and Biblical texts into inclusive politically-correct statements. This has damaged the august image of the Church before the faithful. To remedy this, Catholics need to reclaim their heritage trusting in God's help for this endeavor.
"We cannot forget," Fr. Trigilio stressed, "this Church belongs to Christ." Fr. John Trigilio holds doctorates in theology and philosophy. He is a well-known lecturer and program host on EWTN.