Over 200 guests attended the annual 2009 TFP – America Needs Fatima Supporters' picnic in northeast Kansas.
People of all ages were present at the event, although, on this day, everyone was young at heart.
The beautiful and crisp fall day began with an extremely informative audiovisual presentation by TFP member Mr. Byron Whitcraft. Mr. Whitcraft traveled from the TFP boys' academy in Herndon, PA.

The presentation was titled, "Two Societies, Two Spirits; You Make the Choice."  It contrasted the Catholic spirit of the Middle Ages with the opposing spirit that characterizes our contemporary society.
Mr. Whitcraft had many samples both from an ecclesiastical sphere as well as a temporal one.  With the aid of images, he demonstrated the stark contrast between the glory of the past with the willful and energetic immersion into sin and chaos today.
Once all of the guests arrived, a beautiful statue of Our Lady of Fatima processed to Her place of honor to reign over the day.
This year, friends from Louisiana graced the picnic.  One of our supporters brought with him a full sized pig, which was barbecued whole, Cajun style.  It was so delicious that not a morsel remained after the meal.
The puppet show this year was a true story about an incident that occurred during the Protestant revolt in Switzerland during the 16th century. In it, a little shepherd boy rescued a statue of Our Lady from malicious Protestants intent on destroying it.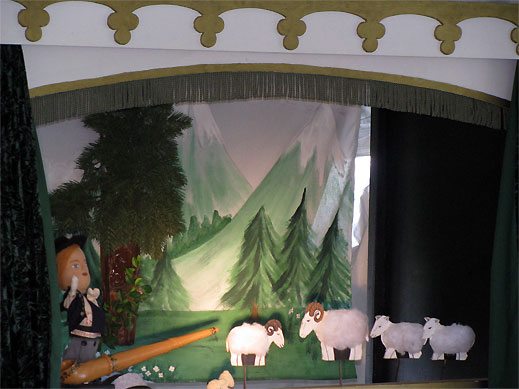 There were treasure hunts, a piñata, a large model rocket launch and a long and relaxing hay ride.
At dusk came the high point of the day which was the candlelit outdoor rosary procession with the statue of Our Lady.  It was incredible to hear the audible gasps of those in attendance when they saw the great honor paid to Our Lady as well as the sea of candles lit to illuminate the procession.
The evening ended with a shadow show titled, "Michael."  "Michael" is a beautiful story of a U.S. Marine during the Korean War who was literally rescued by St. Michael the Archangel.
At the end, the guests departed tired but very happy to have participated in such a beautiful event.