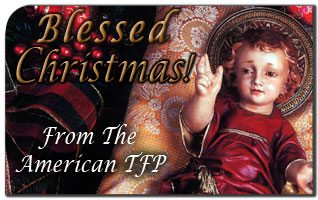 On the glorious feast of Christmas, we pray most ardently that you and your family will receive abundant graces of Catholic fidelity and courage to face the difficult days ahead.
The marvelous graces from the first Christmas night in Bethlehem shine through the ages, sustaining us even today in the arduous fight for the remnants of Christian Civilization.
Through the intercession of the Blessed Virgin Mary, we pray that all the setbacks and sufferings we endure today for Christ's sake will tomorrow be transformed into beautiful flowers of victory for the Catholic Cause. And at the end of the path of trial, grace will overcome sin, and bring forth its full splendor, the Reign of the Immaculate Heart of Mary.
May your soul be nurtured in the hope of the coming of Our Lady's Reign which she announced at Fatima: "Finally, My Immaculate Heart will triumph!"