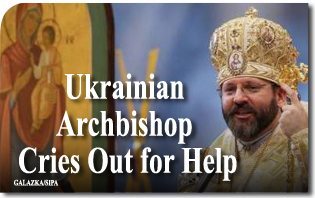 As Ukraine celebrated its Independence Day on August 24, the Greek-Catholic Archbishop of Kiev, Most Rev. Sviatoslav Shevchuk sought to alert the world about the oppression Christians are suffering in his country.
In an open letter to the bishops' conferences and political authorities around the world, Archbishop Shevchuk issued a cry for help.
Oppressed Christians
The archbishop explained that Ukraine is suffering from military aggression. In addition, the silence and inaction of the international community is causing other tragedies. To him, Ukraine needs concrete support from the whole Christian community and all persons of good will. "For months now, the country experiences foreign-backed destabilization, separatism and terrorism in the Donetsk and Lugansk regions. In a word, it is war."
Archbishop Sviatoslav Shevchuk also shares the views of the Kiev government: the pro-Russian separatists are "terrorists." He denounces the oppression suffered by members of the small Greek Catholic and Roman Catholic minority living in areas under separatist control.
Three Catholic priests have been kidnapped, while the bishop and almost all other Greek Catholic priests have been forced to leave the vicinity of Donetsk. Armed men belonging to the "separatist regime" have entered the churches and desecrated the sanctuaries. "The terrorists have blackmailed the clergy by threatening to hurt their parishioners."
The Ukrainian archbishop also firmly rejects accusations by the Moscow Patriarchate that Greek Catholic military chaplains encourage their coreligionists to do violence against members of other religious groups and churches. He notes that Ukraine is a victim of military aggression on the entire population regardless of religious or social affiliation.
"We need your prayers," the Archbishop of Kiev wrote in his appeal. "We need your understanding, your kind words, and effective action."