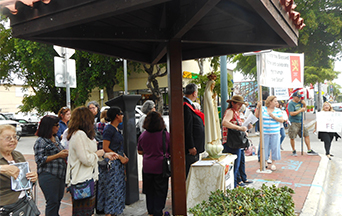 Calle Ocho is a well-known street located in the heart of Miami's Little Havana. Almost everything there is reminiscent of the fifties when Cuba was prosperous and not the unfortunate island prison that it is today.
The street's restaurants are decorated with photos of the time. Shops sell fine cigars and other Cuban-related goods. There is the sound of Cuban folk music. Tourists enjoy the atmosphere of culture and fun.
However, this climate is broken by a new restaurant called "El Santo," that opened last September. The establishment makes a mockery of Catholic values and imagery. It makes fun of all things sacred.
Pope Leo XIII taught that the strength of the wicked lies in the weakness of the good. Thus, the anti-Catholic promoters of the venture did not count on any resistance from Catholics who might see it as an abomination. They were mistaken.
The restaurant is truly shocking. A listing of its blasphemies shows the full extent of their mockery. The restaurant contains:
Perverted images mocking Our Lady
Images mocking Our Lord
Bathrooms with crucifixes on the doors and "Confessions" signs above
A giant Ouija board in the bar section
Satanic symbols
Drinks presented with rosaries wrapped around them
Skulls hanging from the ceiling
Statues of the Sacred Heart of Jesus, the Blessed Mother, the Saints, angels, and crucifixes spread throughout the place
Rosaries and Day of the Dead figures and skulls decorating the shelves
A sign encouraging people to bring both girlfriend and wife for free food
A neon sign says, "Not today, Satan… maybe tonight"
Confession Thursday: Forgiveness Hour 8-10 pm Complimentary Cocktails for all Sinners
Good Friday: Complimentary Cocktails for all the Saints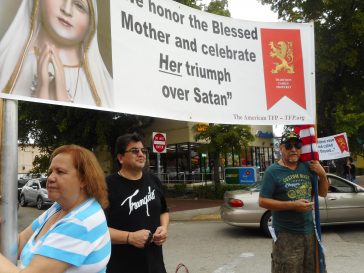 Against this attack upon the Faith, a few hundred faithful Catholics protested in front of "El Santo." The massive protest was organized by the American Society for the Defense of Tradition, Family and Property (TFP) on October 19 at noon. The crowd expressed their indignation at this offensive display of blasphemies. They sent a message to the owners that Catholics have taken notice.
The protesters recited the rosary, and shouted out slogans warning: "Do not play with God!" A pilgrim statue of Our Lady of Fatima from the American TFP's America Needs Fatima campaign presided over the peaceful and legal event. Those who wish to sign a petition against this establishment can do so here.