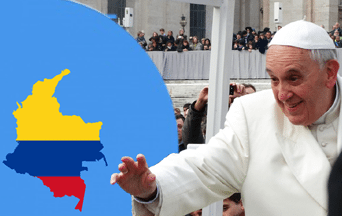 1.  Pope Francis' meeting with President Santos and former President Uribe at the Vatican on Friday, December 17, 2016, to talk about the so-called "peace" agreement with the bloodthirsty FARC guerrillas was both surprising and most risky.
2.  A surprise summit, at least for ex-president Uribe, who stated he was summoned at the last minute with a call from a senior Vatican diplomat. No tickets to Rome were available at such short notice, a problem solved almost "miraculously" by some friends. Even so, Uribe barely had time to pack his bags and board the plane to Rome.
3.  For Vatican diplomacy, this is a risky gamble because, as can be seen from the press release issued by the Holy See press office Francis' "support" for the so-called "peace process" with the FARC is all too clear. The pontiff emphasized "the importance of the meeting," of "unity," "reconciliation" and "education to forgive," all of which sounded almost as an upbraiding and reprobation of former President Uribe and the majority of Colombians who had just rejected that "process" in a recent referendum.

4.  We are not, as yet, privy to the inner workings of this risky move by Vatican diplomacy to pressure the consciences of Colombians to favor the semi-stalled agreement with the FARC. What is known is the current pontificate's clearly pro-leftist stance at the political level, including what it says about communist Cuba, which has been documented in many leading international publications. Thus, this intervention by Francis in Colombian affairs can hardly be seen or interpreted outside that pro-leftist context.
5.  The delicate question that arises is can the Colombian Catholics who voted against the so-called peace agreements with the narco-guerrillas, in good conscience, disagree and oppose what clearly appears to be pressure from the pontiff. The answer is yes. Indeed, the pope is not infallible in political and diplomatic matters. Therefore, one can disagree with him in a respectful and well-founded manner, exercising a legitimate moral and principled resistance. Uribe himself addressed Pope Francis frankly: "You cannot impose all this on us, Your Holiness."
Important Notice: These brief and informal comments by Destaque Internacional do not necessarily represent the views of all members of its editorial board. These comments are intended to draw attention to "politically incorrect" and often ignored issues which are nevertheless vital to society. Our aim is to encourage debate and remove anesthesia. We welcome suggestions, opinions, critiques and unsubscribe requests to [email protected] Earlier editorials can be read at www.cubdest.org.