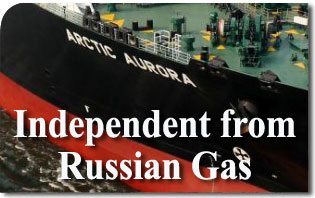 Lithuania has celebrated a historic step to get rid of its dependence on Russian gas and of the extortion to which that dependence subjected it by opening the Liquefied Natural Gas Terminal – LNG in the port of Klaipeda.
The LNG freighter Arctic Aurora, with a capacity of 155,000 cubic meters of liquefied gas (5.47377e6) unloaded the first commercial shipment of gas supplied by the Norwegian company Statoil, as reported by LNG World News.
A first delivery had been made in Klaipeda in October, but as a test. It was made by Norway's ship Golar Seal, capable of carrying 160,000 cubic meters of liquefied gas.
The beginning of regular gas deliveries marks a new era for Lithuania, which thus becomes independent from Russian gas and from Vladimir Putin's aggressive arbitrariness.
Lithuanian President Dalia Grybauskaitė said that if necessary, the Klaipeda LNG terminal may cover up to 90% of the gas needs of Lithuania, Estonia and Latvia, which up to now were 100% dependent on Russian gas.
In Moscow, the strategists of the "new USSR" were silently biting their fingers.