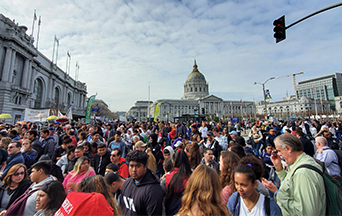 For decades, San Francisco has earned its reputation as one of the world's most liberal cities. From the city's Haight-Ashbury District to the affluent Castro district, it has been the epicenters of the hippy movement, the homosexual movement and much more. The residents go about their day living and breathing cultural revolution.
Imagine the clash when over 50,000 pro-lifers marched through the center of their city.
At the West Coast Walk for Life on January 25, many participants were wearing habits, clerics or even MAGA hats. To the further dismay of the city's tolerant and multicultural left, this crowd was filled with people of all ages, races and religions. Catholics were the largest group.
Among this crowd were members and supports of the American Society for the Defense of Tradition, Family and Property (TFP). The contingent came with the well-known crimson TFP standard and various banners from its America Needs Fatima campaign. The TFP delegation brought to the streets of San Francisco the very same message as their colleagues in Washington, D.C. the day before. The statement was titled "Keeping God's Law at the Center of the Fight for America."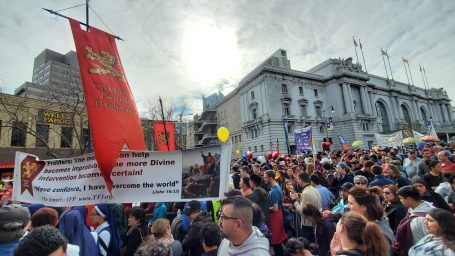 TFP members and supporters managed to distribute some 4,000 fliers to the crowd. Most of the public was already familiar with the TFP's work because of the widely-viewed TFP Student Action YouTube video channel. Not surprisingly, everyone received the leaflets graciously as the entire stock was distributed barely halfway into the walk.
The Walk for Life was an astounding success. For the city of San Francisco and the state of California, the event served to show the lie in the liberal assertion that procured abortion counts with universal support. Over 50,000 people made their voices heard in the streets of San Francisco in defense of the innocent preborn. Their presence in this fight will ensure that the pro-life movement on the West Coast will continue to break the so-called liberal consensus.