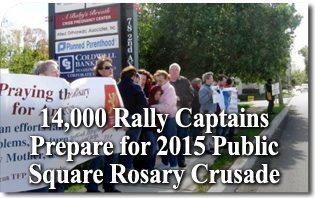 The 2015 Public Square Rosary Rallies on October 10th are just around the corner.
History may someday recognize their importance. For now, the hundreds of thousands of participants at rosary rallies, such as were held in Austria after World War II, have not yet received proportional attention. Meanwhile, morally speaking our country is on a rapid downward slide, and the contrast between good and evil is becoming ever more evident.
Each day moral horrors, like those of Sodom and Gomorrah, take their toll on Americans who retain uprightness of soul. Yet once Americans, with the help of Divine grace, wake up from this nightmare, they will recognize the essential importance of public prayer and reparation as expressed each October in the Public Square Rosary Crusade.
Right now, there are thousands of rallies — 14,000 to be precise. Eventually however, it is confidently believed that tens of thousands of rallies will take place to offer God the much needed public reparation for the multitude of sins in America, and for the conversion of souls and of the nation.
The goal of America Needs Fatima is to eventually hold public square rosary rallies on all major street intersections in America.
If you have never held a Public Square Rosary Rally before you may well wonder what kind of a person becomes a Rally Captain. If you have led or even participated in a Public Square Rosary Rally you know the great consolations and blessings received at a rally. Our Lady's presence is palpably felt by those who publicly offer her consolation and reparation, and who prayerfully beseech her to convert souls.
Rally Captains are those who are keenly aware of America's moral crisis. They see the contrast between good and evil in a clear manner, due to their love of Our Lord, Our Lady and our Catholic Faith. Rally Captains are serious members of the Church Militant.
As a result, they brave inclement weather and many other obstacles to do a rosary rally. And most difficult of all, they face public opinion. Nothing on this earth takes more courage than this. Men will risk death rather than be called a coward. Rally Captains face public opinion, which is often made up of people who have turned their backs on God. Rally Captains courageously overcome their fears. They do it out of love and desire for the coming triumph of the Immaculate Heart of Mary.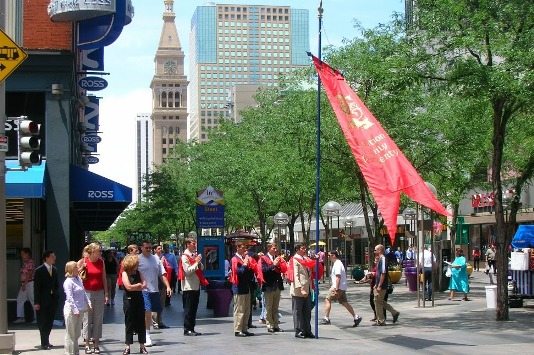 Amid America's moral decline, rosary rallies are a visible sign of prayer and hope. Rally Captains are sometimes amazed to hear the large number of car horns sound as people drive by, wave and show a "thumbs up" sign of approval. The Public Square Rosary Rallies give hope to a society mired in the despair of sin.
Rally Captains aim to practice the virtues of fortitude, valor, love of God and neighbor, authentic patriotism, holy zeal, piety and a healthy fear of the Lord. They strive to be dedicated to Our Lady. Many if not all have made a total consecration to Jesus Christ through Mary according to the method of Saint Louis de Montfort. They love the rosary, their Catholic Faith, their families and their neighbors. They are grievously concerned about sin and its consequences. They desire the conversion of poor sinners who are on their way to hell.
Through the prayers of those who participate in the rallies, and the grace of Our Lady, the number of Rally Captains will continue to increase, as they have every year since the first Public Square Rosary Rally in 2007.
The first time one holds a Public Square Rosary Rally, it is natural that some may experience a little fear or trepidation. After one has experienced the interior happiness of doing something so important for Our Lady, one becomes spiritually prepared for the next time. During and after the rally, a great happiness and tranquility comes over their souls. How do we know? By the many photos and testimonials we receive at America Needs Fatima every year.
In these days of moral depravity, those who have great love and adherence to the Catholic Faith, and those who do rosary rallies in the public square are indeed few and therefore very precious to the Blessed Virgin Mary.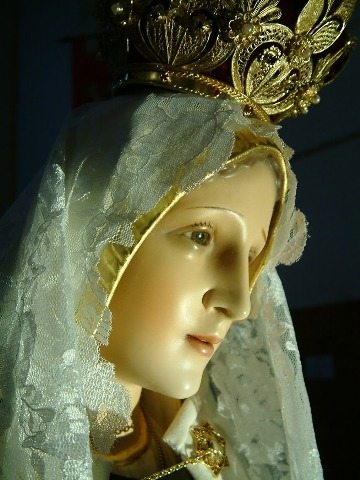 I am reminded of the famous quote by Sir Winston Churchill about the British pilots in World War II: "Never…was so much owed by so many to so few." Like the Crusades, the Battle of Lepanto and the great Rosary Crusade of Vienna after World War II, the Public Square Rosary Rally Captains, while relatively few in number, are making and will continue to make a tremendous difference in the future of America. They aim to reconquer the heart and soul of America for Our Lady!
As Our Lady promised Blessed Alan de la Roche, "you shall obtain all you ask of me by the recitation of the Rosary." Won't you join us in asking Our Lady to forgive and convert America?
If you have what it takes to become a Rally Captain, please click here https://americaneedsfatima.org/Site-Form-Articles/rosary-rally-captain-sign-up.html or call or e-mail America Needs Fatima at (866) 584-6012 and [email protected] respectively.
As Seen On Catholic365.com