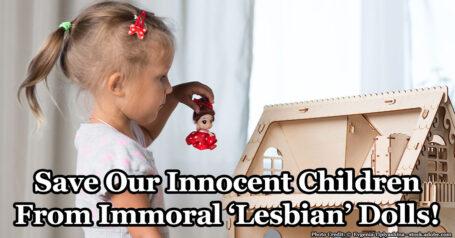 The doll brand Bratz has released a new doll pack in celebration of pride month marketed to our innocent children.
The pack includes the two female dolls Roxxi and Nevra. It presents both dolls as in a same-sex relationship and is designed by JimmyPaul, a LGBTQ+ fashion designer.
Tell Bratz to Stop Selling Immoral Dolls
"We are proud to announce this culturally significant collection and collaboration with Jimmy Paul and express our support for the LGBTQ+ community…"
"This collaboration is a love letter to the LGBTQ community…" stated JimmyPaul. "My hope is that the collection brings a glimpse of hope and power and serves as a reminder of both the vibrancy of the community and the gravity of LGBTQ affairs today."
Taking a principled, not a personal stand.
The dolls are dressed in colorful immoral clothes and even hold signs that say "I can't even think straight," and "queer and unapologetic".
SIGN NOW to Stop the Selling of Immoral Dolls
These dolls promote immoral values and unnatural vice. They should not be exposed to anyone let alone our children and must be taken down.