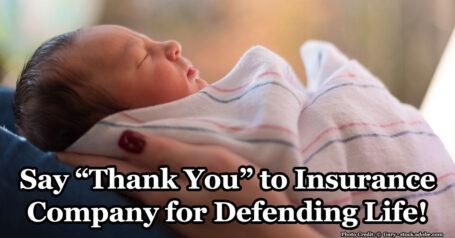 I have good news for you! Following a complete abortion ban in the state of Texas, an insurance company took its defense of life to the next level.
Buffer Insurance announced on June 27 that in response to the overturning of Roe v. Wade, it will financially assist its employees that choose life.
This move is especially welcome, as many brand-name companies are paying employees to kill their children.
Don't miss this opportunity to say "thank you," as well as encourage other companies to follow suit.
Say "Thank You" to Buffer Insurance
On its Facebook page, the company posted that it would enact these three new pro-life policies in response to Roe v. Wade:
"Buffer will pay the medical costs for our employees who birth babies."
"Provide paid time off for employees to have maternity and paternity leave."
Buffer will pay for the medical costs associated with adopting a baby."
Buffer is paying its employees to save children—not to kill them as Amazon and Disney do.
Say "Thank You" to Buffer for Standing Up Against Pro-Abortion Big Business
Buffer Insurance, however, doesn't stop there.
Besides helping its own employees, the company is also encouraging other businesses to follow suit. The same Facebook post reads:
"Employers: If you'd like to learn how you can provide these benefits to your employees, let us know. We have ready-to-use policies you can add to your employee handbooks."
Thank Buffer for Encouraging Other Companies to Defend Life
We must pray that this praiseworthy action becomes a trend among pro-life businesses. That way, the lives of many innocent children will be saved.
That's why I'm asking you to say "thank you." Because if Buffer receives a warm response, other companies will be encouraged to do the same.
Please, don't miss this opportunity to make a difference in the pro-life movement.
Thank Buffer Insurance for Defending Life