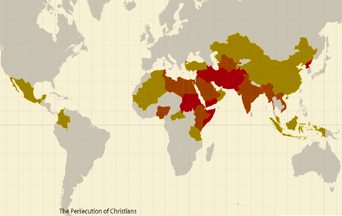 Persecution for following one's faith in Jesus Christ took place not just in Roman times, but takes place daily, at extreme levels, in 2017. According to Open Doors USA, every month 322 Christians are killed for their faith, 214 Churches and Christian properties are destroyed, and 772 forms of violence are committed against Christians (such as beatings, abductions, rapes, arrests and forced marriages).
Open Doors also has a watch list, which plots these persecutions based on country, and gives each a level–moderate, severe, and extreme. Over four dozen countries are included, and almost a dozen of them are at an extreme level of persecution.
Take, for instance, the country of Iraq. In 2003 there were around 1.4 million Christians living in Iraq. Today there are around 275,000, and dropping. That is a decline of 80% in less than 15 years.
In 2015 in Northern Iraq, Chaldean Archbishop Bashar Warda said:
"For many long centuries we the Christians of Iraq have experienced many long hardships and persecutions but what we have now experienced are the worst acts of genocide in our homeland. We are facing the extinction of Christianity as a religion in Iraq."
Why is it that the media talk so little (or not at all) about this serious and pressing problem? Preferring instead to speak about the "persecution," "intolerance," "bigotry," or "hate crimes" committed against sinful groups such as the homosexual movement. Or how Europe and the United States should be accepting millions of Muslim refugees, without even mentioning the many Christians being persecuted and killed every day?
Clearly many people simply do not want to admit this travesty of reporting, and choose to ignore the fact that Islam is not tolerating of Christianity. To admit this would be a contradiction to the idea that Islam is peaceful and willing to coexist with Christianity. The facts, however, tell a different story.
Please pray for the persecuted Christians around the world, especially that they can defend themselves against those trying to eradicate them.