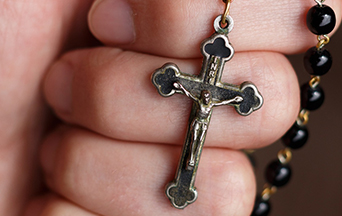 Who would ever have thought that pagan Incan idols would be venerated at the Vatican in Rome?
Yet, that is what happened over the course of the month-long Pan-Amazon Synod. It started in the Vatican Gardens on October 4, 2019. There was a ceremony with a ring of people, including one in a Franciscan habit, who prostrated themselves before statues of the "Pachamama," an indecent naked and pregnant idol of the goddess of fertility representing "mother earth." The Pachamama idols were given place of honor at church ceremonies throughout the synod including St. Peter's Basilica. Multiple copies of the idols were placed in the Church of Santa Maria Transpontina in Rome for the Synod.
Such an outrage demands reparation! It demands faithful souls who can appear before God and the Blessed Mother to beg pardon for this denial of Church teaching and practice. Can you not spare a few minutes to offer a rosary of reparation this coming December 12?
We chose December 12 because it is the feat of Our Blessed Mother under the invocation of Our Lady of Guadalupe.
It is a most fitting day! Our Lady of Guadalupe appeared in Mexico to Saint Juan Diego, an Indian convert, in 1531. As the true Empress of the Americas, she pronounced her love for the indigenous peoples of the New World.  She blessed the Americas with millions of conversions to the True Faith that triumph over the pagan darkness. She overcame the Indian idols back then and she can do the same now!
None of us would stand by and see our earthly mothers mocked and replaced with others. We would all rise up in their defense. Our defense of our Blessed Mother, the true Queen of Heaven and Earth, requires us to reaffirm our loyalty and love for her in face of this outrage.
There is no more effective means to do this than the Holy Rosary. There is no better day that the Feast of Our Lady of Guadalupe, Mother and Missionary to the Indians of America on December 12.
Therefore, we ask and encourage you to join us in a national act of reparation. We ask you to pray a rosary any time on this day for the intention of reparation to Her Immaculate Heart for the outrage of idol worship in the Vatican. Let us also pray that the crisis in the Church cease and the world will return to the worship of the One True God.
Our Lady has given us so much. Please join us in this act of reparation and devotion!